We encourage our members to use the "Report Abuse" tool on two occasions:
1. If a member has violated our posting rules.
2. If a member wants to remove his own post.
Before you can report a post, you have to be able to view the whole post by clicking on the title from the main bullboards page (Community > Bullboards):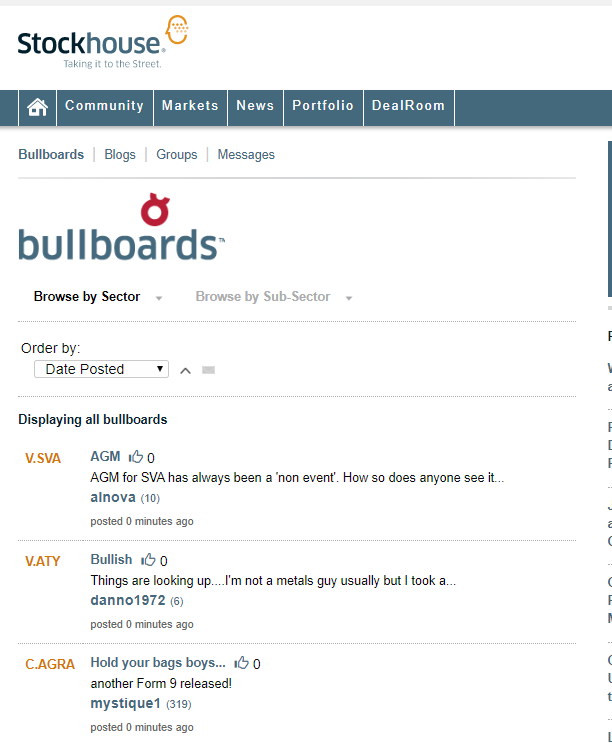 Or, when on the main bullboard page of a company, clicking on the "read more" link to read the whole message.
To report a post, click on the 'Report Abuse' tool located on the right hand corner just below the message itself.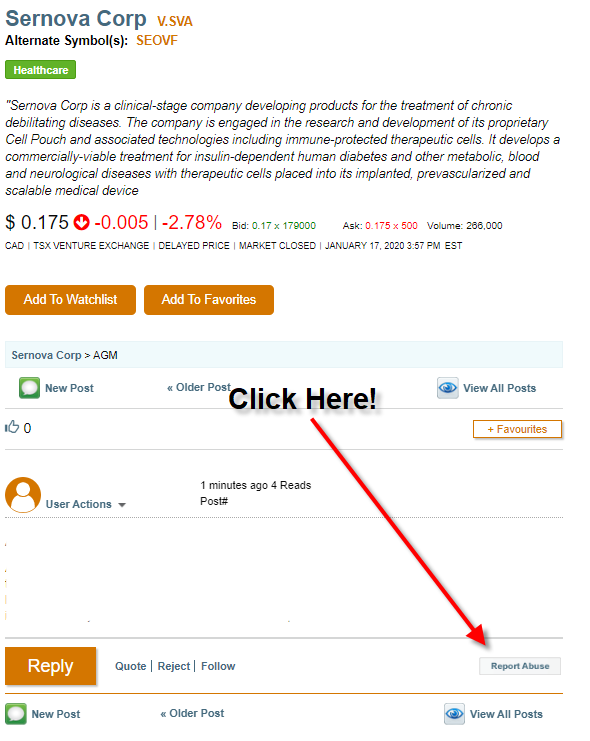 A pop-up window will appear, asking for your reason for reporting the post.
For users who want to remove their own post, you can choose any of the following reasons, but make sure to indicate in the comments section that it is your own post and you want it removed.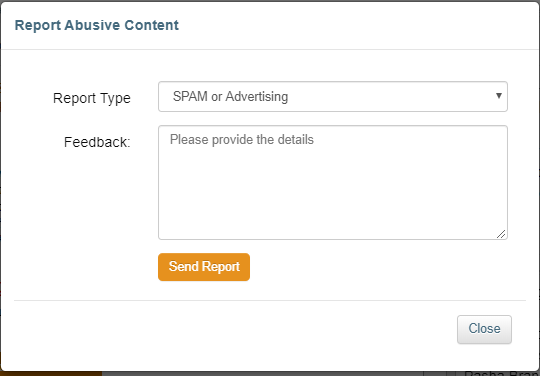 For abuse reports, you must include a brief argument/evidence against the posting in the comments field.
Stockhouse may remove posts that we deems to be false, misleading, unlawful, promoting unlawful or criminal activities, harmful, threatening, defamatory, libelous, infringing, abusive, inflammatory, harassing, vulgar, obscene, fraudulent, invasive of privacy or publicity rights, sexually exploitive, hateful and/or racially, ethnically or otherwise objectionable;
Stockhouse may also, in appropriate circumstances and at its sole discretion: (a) terminate or suspend memberships; and/or (b) limit members access to and/or use of any of the Stockhouse Network of Sites, whether or not there is any repeat infringement; and/or (c) Stockhouse deems a member's conduct and/or User Content has violated the User Agreements, whether or not there is any repeat violation, with or without notice.
Be assured that Abuse Reports are reviewed for removal once every 24 hours on business days.