If you have not completed the registration process or if you are reactivating an account that has not been in use for a long time then you may be required to validate you email address by clicking on "Resend Email"



If you see this message simply click the button and check your email for the validation link. Please check you spam folder in both your online web access as well as desktop software since the message could be trapped in either location. We use a 3rd party mail delivery service for this that is very reliable but any mail from someone who is not in your address book has a high risk of being identified as spam. The mail will arrive from support@stockhouse.com
Additionally, when you click the drop-down menu from your user name in the top right corner, you will see: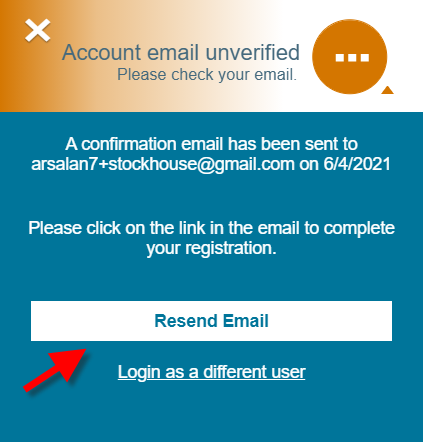 Simply click on the "Resend Email" button and a new verification email will be sent.
You need to click on the link provided. Note that some email clients will automatically block links in emails from unknown sources or put them in your junk folder. Make sure you add support@stockhouse.com to your allow list.

If you cannot click the link, simply copy and paste it in its entirety from the email and paste it into your browser. You need to copy and paste the ENTIRE address from https through to the last letter, even if it appears on another line. This has a unique code to activate your membership.
You may also wish to consider changing your email address:
https://support.stockhouse.com/entries/24470896-How-do-I-Change-My-Email-Address-